Compassionate Legal Support for Auto Accident Victims
For over a quarter-century, Etehad Law has been committed to aiding those injured in car accidents. We understand the devastation these incidents bring, and we're here to offer both legal expertise and compassionate support. By focusing on a client-first approach, we not only provide legal representation but also a sense of stability and hope in what often feels like an insurmountable situation.
No fee unless we WIN

No cost unless we WIN

Free consultation

98.8% Success Rate
Pain and Suffering

Medical Bills & Expenses

Property Damages/Loss of Use

Loss of Income/Earning Capacity

Loss of Consortium
TYPES OF ACCIDENTS WE COVER
Uber, Lyft, & Taxi Accidents
Moped & Scooter Accidents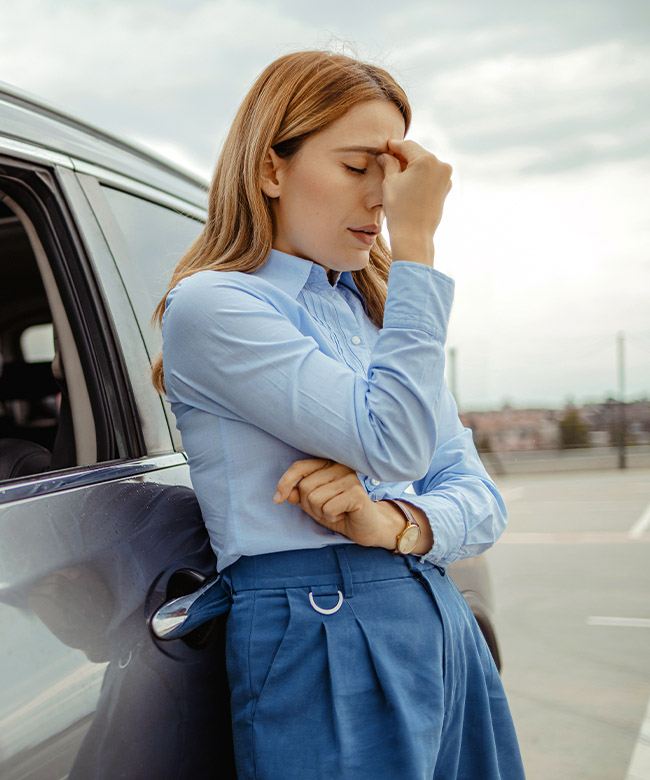 Navigating the Harsh Realities of California's Roadways
According to the California Office of Traffic Safety (OTS), 269, 031 people were injured in car accidents in California in 2019. For the same period, more than 3,434 fatalities were recorded due to automobile accidents. On average, a traffic accident involving injury or death is reported every three minutes and seventeen seconds. These collisions can wreak havoc on people's lives, disrupting their ability to work, and making it impossible to enjoy leisure activities. Traffic accidents are one of the most common causes of wrongful death and serious injury in America. Use of safety equipment like seat belts reduces the risk of injury but doesn't eliminate it. Car accidents can easily result in:
Headaches

Brain Injury

Whiplash

Spinal Cord Injury
Wrongful Death

Broken Bones

Lacerations

Soft Tissue Injury
You may not think your car crash was a big deal unless it resulted in catastrophic injury, but many injuries often produce long-term symptoms that can substantially degrade your quality of life. Because you may not perceive the symptoms of your injuries right away, our first priority is making sure you get the medical care you need with no cost to you, regardless of whether or not you have health insurance. Depending on the severity of the injury, you may require orthopedic care, chiropractic treatment, physical therapy, MRI scans, epidural injections, or even surgery.

We'll make sure your car gets repaired or replaced quickly and, until that time, we'll get you in a rental if you need one so that you're not stranded without transportation. We'll also fight to ensure that you're paid for your pain and suffering and for any money you lose if you're unable to work because of your injuries.

Our car accident attorney Los Angeles can help you understand the legal process, determine your best course of action, and make sure you receive the medical care you need.
PROVIDING WINNING RESULTS FOR OUR CLIENTS:
Jury verdict in an auto v. auto crash where the client was held at 30% at-fault.
PROVIDING WINNING RESULTS FOR OUR CLIENTS:
An auto v. auto case where a client's deposition was never taken. Initial offer of $84,000.
PROVIDING WINNING RESULTS FOR OUR CLIENTS:
Client was struck by a delivery driver in this auto v. auto case.
PROVIDING WINNING RESULTS FOR OUR CLIENTS:
Minor impact crash with a driver within the course and scope of work.
PROVIDING WINNING RESULTS FOR OUR CLIENTS:
An auto v. truck case where a police report claimed client was at fault for unsafe lane change.
PROVIDING WINNING RESULTS FOR OUR CLIENTS:
A disputed liability against a rideshare driver that ended as a confidential settlement against a rideshare company.
If you or a loved one need an experienced car accident attorney, call us to schedule a free case consultation and we'll guide you to success.

Our results speak for themselves
"I went to him 2.5 months ago after my husband came limping home after a car hit him while on his bike. I'm very thankful I did. He won us the max on the insurance limit. Of course that was nice.....but he also sent my husband around to the doctors he works with and my husband received the BEST CARE and is in full recovery. Simon and everyone in his office are great people!"
ANNALISE C.
"I got into an accident and reached out to Simon Etehad. He and his team are very professional and helped me get a great settlement. Anytime I needed them, they were only a phone call away and they would even call me and email me regularly with updates on my case. I could not be happier and would recommend Etehad Law for any personal injury case."
ADIB S.
"The only thing I can say is that Etehad Law is the best law firm. I was very happy and satisfied with them. I really do recomment them to my friends and family."
FABRIA A.