Pursuing Justice After a Slip and Fall Accident
A slip-and-fall accident or trip-and-fall accident can occur at any time. If the property owner knew about the problem and failed to fix it, you may be eligible for compensation to cover your injuries. Most people brush off small accidents like these because they heal quickly. However, some result in severe and serious injury. If you or a loved one sustained a severe injury from a slip-and-fall accident, you need to talk to a Los Angeles slip-and-fall expert lawyer right away.
No fee unless we WIN

Free consultation

98.8% Success Rate
Pain and Suffering

Medical Bills & Expenses

Property Damages/Loss of Use

Loss of Income/Earning capacity

Loss of Consortium
TYPES OF LIABILITY CLAIMS WE COVER
TYPES OF LIABILITY CLAIMS WE COVER
Negligent Security Accidents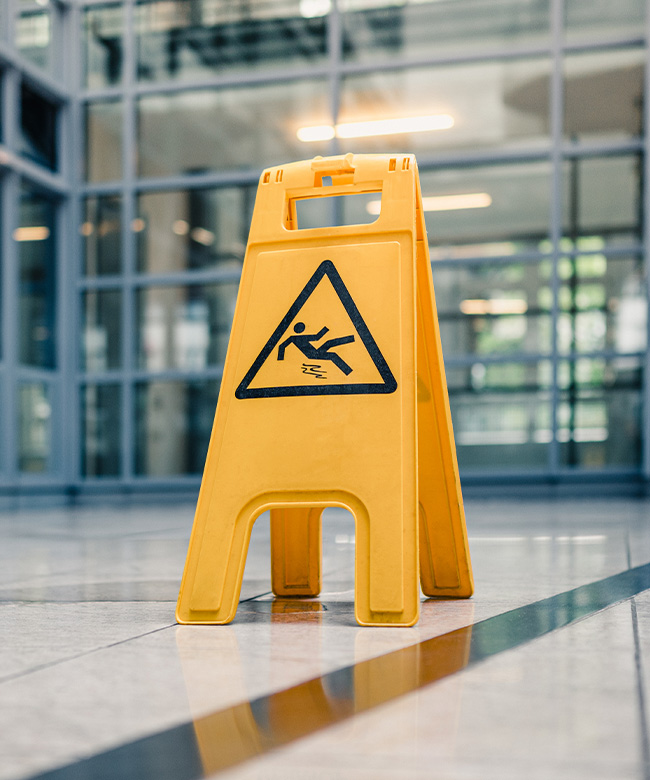 The Key Factors That Determine Liability in Slip-and-Fall Cases
California law requires public and private property owners and management companies to maintain their properties so this type of injury is avoided. For example, a person who owns a walkway has a duty to all who walk on it to make sure it's free of hazardous conditions. A homeowner must keep the walkway in front of his or her house free from debris, or they may be found liable for a person's injuries if that person slips or trips. In order to be held liable, a property owner must have either created the dangerous condition, been aware of the dangerous condition and failed to correct it, or been negligent in being unaware of the dangerous condition.

Dangerous conditions can be created by a variety of circumstances, including, but not limited to:
Inadequate Lighting
Damages Floors
Escalator Malfunction
Poorly-Maintained Carpet
Wet Flooring
Loose Debris
If you were seriously injured in a shopping mall, grocery store, or apartment building, you may be eligible for compensation to cover the cost of your injury. Our lawyers have obtained millions of dollars in compensation for our clients in the Los Angeles area who've been involved in slip-and-fall accidents and trip-and-fall accidents. We have the skill and experience necessary to represent you effectively. Additionally, our team meticulously evaluates the specifics of each case to build a robust legal strategy tailored to your unique needs.
PROVIDING WINNING RESULTS FOR OUR CLIENTS:
Results from a slip and fall case on an onion in a grocery store.
PROVIDING WINNING RESULTS FOR OUR CLIENTS:
Slip and fall suit at a discount store with a disputed liability.
PROVIDING WINNING RESULTS FOR OUR CLIENTS:
Case where a client tripped over an unattended pallet.
If you or a loved one need a slip and fall attorney, call us to schedule a free case consultation and we'll guide you to success.

Our results speak for themselves
"I went to him 2.5 months ago after my husband came limping home after a car hit him while on his bike. I'm very thankful I did. He won us the max on the insurance limit. Of course that was nice.....but he also sent my husband around to the doctors he works with and my husband received the BEST CARE and is in full recovery. Simon and everyone in his office are great people!"
ANNALISE C.
"I got into an accident and reached out to Simon Etehad. He and his team are very professional and helped me get a great settlement. Anytime I needed them, they were only a phone call away and they would even call me and email me regularly with updates on my case. I could not be happier and would recommend Etehad Law for any personal injury case."
ADIB S.
"The only thing I can say is that Etehad Law is the best law firm. I was very happy and satisfied with them. I really do recomment them to my friends and family."
FABRIA A.