Expert Legal Help and Options for Dog Bite Victims
When a simple walk in the park or a visit to a friend's house turns into a traumatic event due to a dog bite, you need a law firm that understands both the emotional and physical toll it can take on you or your loved ones. Etehad Law is committed to fighting for the rights of dog bite victims, providing expert legal counsel to ensure you get the compensation you deserve. With a strong track record in premises liability cases, we stand ready to advocate for you.
No fee unless we WIN

Free consultation

98.8% Success Rate
Pain and Suffering

Medical Bills & Expenses

Property Damages/Loss of Use

Loss of Income/Earning capacity

Loss of Consortium
TYPES OF LIABILITY CLAIMS WE COVER
TYPES OF LIABILITY CLAIMS WE COVER
Negligent Security Accidents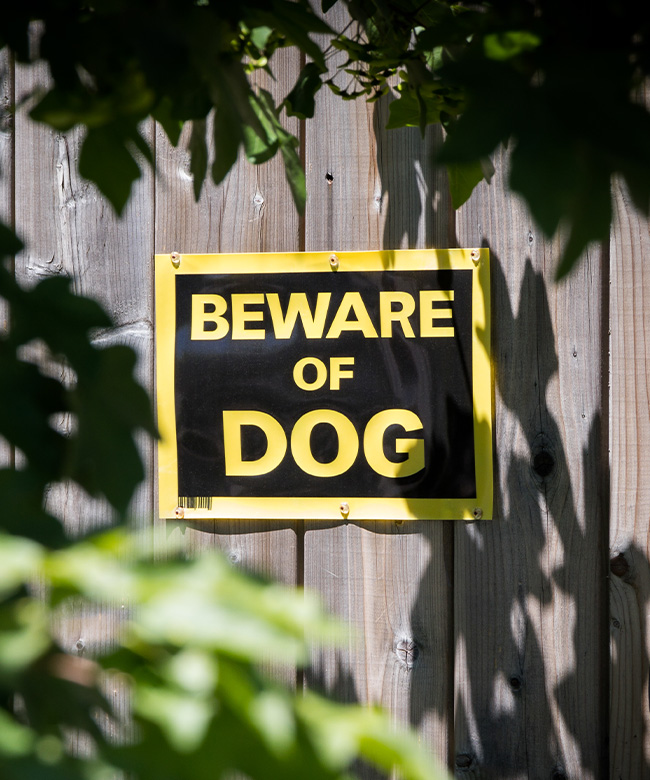 The Physical and Emotional Trauma for Dog Bite Victims
Dogs can be great companions when they're properly trained and controlled by their owners, but when things go awry the outcome can be devastating. The Centers for Disease Control and Prevention (CDC) estimates that approximately 4.5 million people are bitten by dogs every year. Of those, half are children. Children are particularly vulnerable to attacks by vicious dogs for several reasons:
Children unfamiliar with animals might not be able to accurately judge whether a dog is acting aggressively.

Children aren't physically capable of defending themselves and are more likely to suffer serious injuries as a result of an interaction with a dangerous animal.
Dogs might confuse a child's attempt to play as an attack and respond with violence.
The emotional trauma experienced by a child is more severe than that suffered by an adult.
At Etehad Law, our approach to dog bite cases involves a thorough examination of key factors to determine the owner's liability. We assess whether you were on the property legally, as trespassers may not be eligible for compensation. We also evaluate any warnings given by the owner and consider the circumstances surrounding the interaction with the dog to ascertain if you may have provoked the animal.

With our wealth of experience in premises liability, we have secured millions of dollars in verdicts and settlements for clients in the Los Angeles area. Rest assured, we are committed to applying the same level of dedication and expertise to fight for your rightful compensation.
PROVIDING WINNING RESULTS FOR OUR CLIENTS:
Rollover with a disputed liability after an initial offer of $30,000.
PROVIDING WINNING RESULTS FOR OUR CLIENTS:
A disputed liability case that involved the client having minor injuries.
PROVIDING WINNING RESULTS FOR OUR CLIENTS:
Results from a slip and fall case on an onion in a grocery store.
PROVIDING WINNING RESULTS FOR OUR CLIENTS:
Slip and fall suit at a discount store with a disputed liability.
PROVIDING WINNING RESULTS FOR OUR CLIENTS:
Case where a client tripped over an unattended pallet.
If you or a loved one need an experienced attorney for your dog bite case, call us to schedule a free case consultation and we'll guide you to success.

Our results speak for themselves
"I went to him 2.5 months ago after my husband came limping home after a car hit him while on his bike. I'm very thankful I did. He won us the max on the insurance limit. Of course that was nice.....but he also sent my husband around to the doctors he works with and my husband received the BEST CARE and is in full recovery. Simon and everyone in his office are great people!"
ANNALISE C.
"I got into an accident and reached out to Simon Etehad. He and his team are very professional and helped me get a great settlement. Anytime I needed them, they were only a phone call away and they would even call me and email me regularly with updates on my case. I could not be happier and would recommend Etehad Law for any personal injury case."
ADIB S.
"The only thing I can say is that Etehad Law is the best law firm. I was very happy and satisfied with them. I really do recomment them to my friends and family."
FABRIA A.